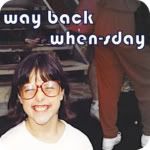 I'm connecting up today with Allison for "Way Back When-sday." Her
post
testing out baby gear with her pup, Rocky, inspired this one. Apparently we weren't alone when we tried to put our dog, Zach, in the stroller when I was pregnant with Tully. Zach's game for just about anything and totally trusts us, but he thought getting in the stroller was just plain silly. I'm not sure what the stroller weight limit is, but I can attest that it will hold up to 55 lbs.
Get me outta here, Dad!
And since I've really only been posting pics of Tully for the past seven months, I'll leave you with a few more shots of our favorite fur baby.
John and Zach hiking in TX - Jan 2011
Snowpocalypse - Feb 2011
Relaxing with Daddy and Tully - April 2011
Lounging at my parents' house - July 2011
July 2011